How Much Should I Charge for Custom Printed T-Shirts?
One of the first business decisions new buyers of DTG equipment will need to tackle is 'How should I set prices for my custom printed t-shirts.'  For many years before DTG came on the scene, pricing guides were based on the production method, screen-printing.  Due to the labor intensive set-up process of screen-printing a single shirt, business owner are forced to request a lot from the customer.  For example, minimum order quantity (usually 12 or more pieces), higher charge for every additional color used in the graphic, and slower turnaround times because of set-up. As a result, screen-printed shirts have a high cost for the first dozen or so shirts and cost decreasing with larger orders of the same design.  Not to mention the complexity of explaining this pricing model to customers.</br>
DTG printing virtually flattened this pricing model.  With DTG printing, you do not need to force a minimum order quantity, you can customize and personalize each individual shirt and you can produce unlimited colors.  Whether you have one color, or a thousand colors your cost is the same.</br>
With a relatively flat cost curve and significantly more simple process, you are free to focus your pricing strategy on what works best for you and your customers.  So, what should you be thinking when you are creating your pricing strategy?
Question 1 – What Style of T-Shirt is the Customer Requesting?
The first question to ask is, 'What t-shirt blank are we using?'  Sleeve length, fabric thickness, softness of fabric, hoodie, zipper, etc. are just a few of the options your customers might request. Some may have a specific brand they prefer; some might supply their own blank and others might just want the absolute cheapest t-shirt you can offer.  There are many garment suppliers that offer wholesale prices.  Keep in mind that this is another opportunity for you to add margin to your pricing.  Typically, you can purchase your blank shirts for $2-5 depending on the factors above.  Check out our post on "How to Choose the Best T-Shirts For DTG." In future blog posts, we'll help you with the myriad of t-shirt suppliers available to you. So stay tuned to our DTG Connection Blog!
Question 2 – What Color is the Shirt?
Besides the cost of the blank and labor, the color of the garment is one of the biggest factors to consider in the pricing of DTG printed t-shirts.
Light Colored Shirts
Light shirts are as easy as it gets with DTG Printing. And with the RICOH Ri 1000 RIP software you will know down to the penny how much ink you are using.  Typical ink costs run between 10-20 cents per print on a white shirt.  The printer only does a single pass laying down all the colors (CMYK) onto the shirt. This means very little ink is used and it is very quick for each print to be completed.
Dark Colored Shirts
Dark shirts are done a little differently than light shirts.   Dark shirts will require 2 layers of ink, you have a white, under base layer and a CMYK color layer on top.  The white under base is required to help the CMYK colors stand out on the dark garment. This extra layer increases the ink cost of the print.  Typical cost run around 75-85 cents per shirt.  I should mention that this can vary depending on the size of the print.  For example, a pocket print will cost significantly less than a full front print.  You also need to factor in your cost of pretreatment. White ink requires pretreatment to be applied to get that rich white we expect to see in a DTG print.  Avg cost for pretreatment is about 50 cents per shirt.
Question 3 – How Many T-Shirts Does Your Customer Want?
It's typical to offer a small discount if your customer orders more than 1 shirt.  This discount can vary depending on where you are located regionally or if you are in an area with heavy competition.  But the price per shirt should decrease for someone who orders 50 shirts vs. 1 shirt. Although DTG makes customization simple, you should also increase the price if each shirt has some customization to cover the cost of the artwork preparation covered in the next question.
Question 4 – How Much Artwork Preparation Will Be Required?
Some customers may come to you with "ready-to-print" graphics that do not require any adjustments prior to loading into the RIP software.  However, many will bring you graphics that need a little help.  It could be something as simple as making the image transparent or having the whole graphic redone.  This extra time and cost should be factored into the price.  Set yourself an hourly rate and charge accordingly.  Also, do not get overwhelmed thinking you have to do this yourself.  There are tons of graphic designers out there that can get the image exactly the way you want at a surprisingly affordable price.  I personally have used IgnitionDrawing.com, but there are many others out there.  They will have the graphic back to you in 24 hours or less and it will only cost about $15.00 for 2 hours.
I am 100% confident the industry will ultimately solve this problem but it's just not there yet.  With that said, explore the different blends, pretreats and techniques out there and see what works for you.  As we find new techniques and tricks, we'll put out blog posts to help you achieve the best results with your polyester prints.
BONUS QUESTION: Would You Like Fries With That?
Ok, so the DTG wizards have not figured out how to make fries yet, but don't forget to look for opportunities to add to your bottom line.  One easy, yet extremely profitable idea is to add the option of foil prints. Adding foil to your prints is as simple as inserting a single step in the printing process and about 10 cents of material. However, customers will often pay $5-10 on top of the price of a standard printed shirt. How do you like that margin, huh!?
Foil is just one of many examples of how you can increase your margin and/or order sizes.  Offer printing on sleeves, pocket or front & back of shirt. Don't just settle for the basic order and always look for ways to add value for the customer while adding to your margin and bottom line profits.
Conclusion:
So where does all of this take us?  Over the years, we've worked with 1000's of DTG business owners. Although many business models and markets vary, below is a pricing guide we put together based off the above factors and what we've heard from our customers.  Like I mentioned earlier you may need to adjust based off your local area and your specific business model.  It might be a good idea to search locally to see what your competitors are offering and their pricing.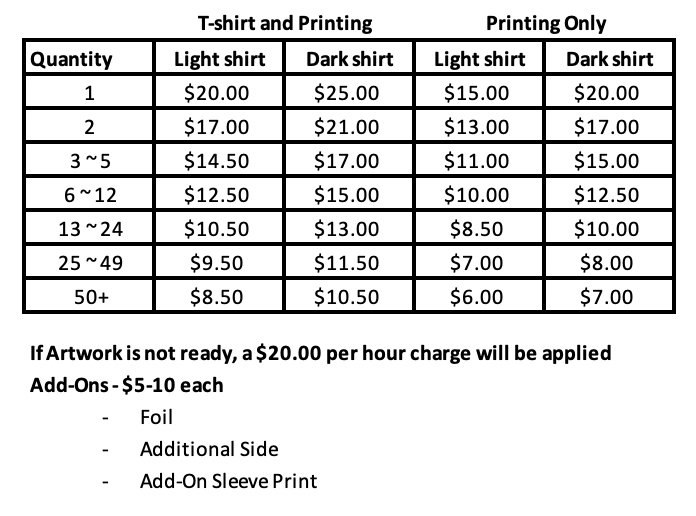 As you can see, your cost of goods sold is minimal compared to what the typical selling price is for DTG t-shirts which will help you achieve a fantastic return on investment.