DTG-C Model X DTG Printer + DTF Printer
Business-in-a-Box Bundle Includes:
Small, Medium & Large Platens ($1385 Value)

Free Training ($795 Value)

Free Software ($665 Value)

Full Set of Ink ($414 Value)

$3000 Instant Rebate
Bundle Package as Low As $299/mo
0% Financing Available!* Ask About Our Special Financing Options.

Next generation in DTG printer technology PLUS DTF printing transfers!
Get even more for less. The Model X dtg printer is an ideal solution for new garment printing businesses and existing print shops looking to expand their offerings to include digital printing. With new white ink chemistry, high image quality, auto table height, and automated setup and maintenance, the Model X easily outperforms its competition.
NEW Auto Table Height
Never worry if your table is at the correct height. With the new auto height adjustment feature every print will be perfectly crisp!
New White Ink Chemistry
Formulated to reduce drying around the print head, the new white ink from DTG-C will make maintenance a breeze and clogging a thing of the past!
Sharp, Vibrant Images
Wow your customers with eye-popping prints delivering beautifully crisp, high resolution images up to 1200 x 1200 dpi.
Automated Maintenance
Print more and worry less. The Model X dtg printer stays in an active state where it is walk-up ready to print.
Exceptional Earning Potential & Fast Profits
See how you can earn more than $10,000 per month! The DTG-C Model X DTG printer gives  you the ability to earn high profit margins on custom garments.
And with the high speed and capacity, you can earn as much as $10,000 per month with a single printer!
$ Profit per Month Selling 100 Shirts
$ Profit per Month Selling 1000 Shirts
Request a FREE Custom ROI Estimate
Let one of our DTG printer experts review your business opportunity and develop a custom package quote and estimated ROI based on your specific details.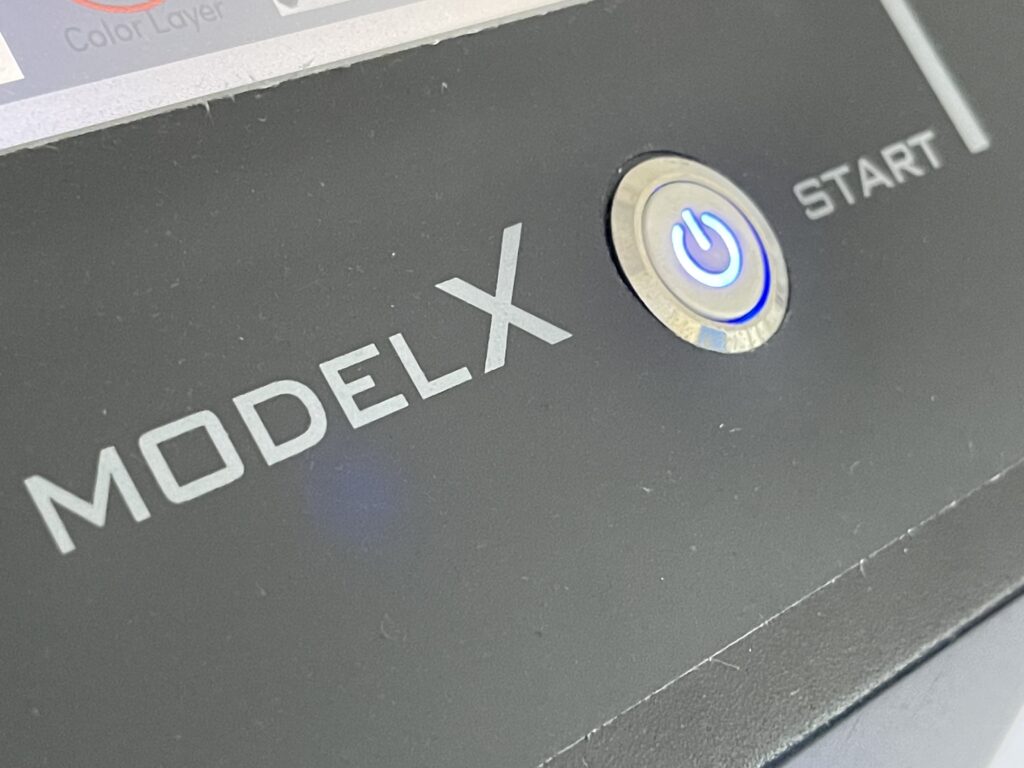 Industrial digital printing technology at an affordable price
Built to DTG-C's world-class quality standards, the Model X offers rugged, industrial-strength steel construction and reliable, time-proven components with the latest updates in the industry. The Model X is a workhorse ready to fill demanding jobs for years to come.
Newly formulated white ink
Model X ink is specially formulated to stay in a liquid form for longer. Unlike other direct to garment printers that require rigorous white head cleaning, Model X maintenance is a breeze. This new ink formula ensures easier cleaning and a much more consistent white ink flow. Additionally Model X ink provides better wash fastness and vibrancy.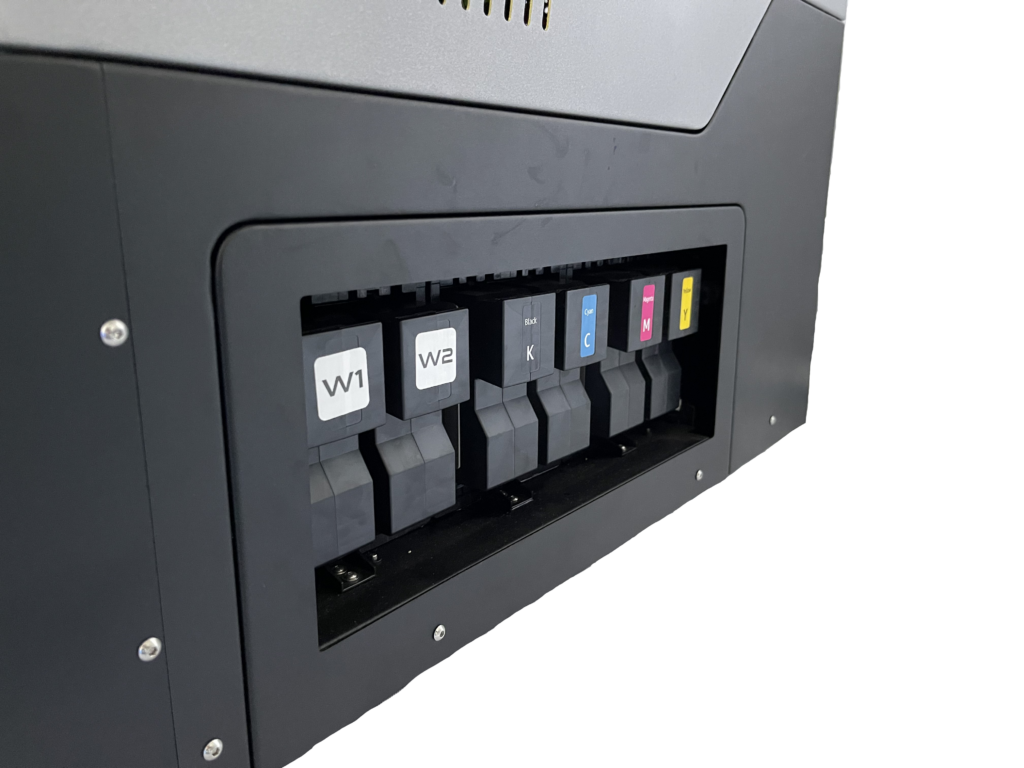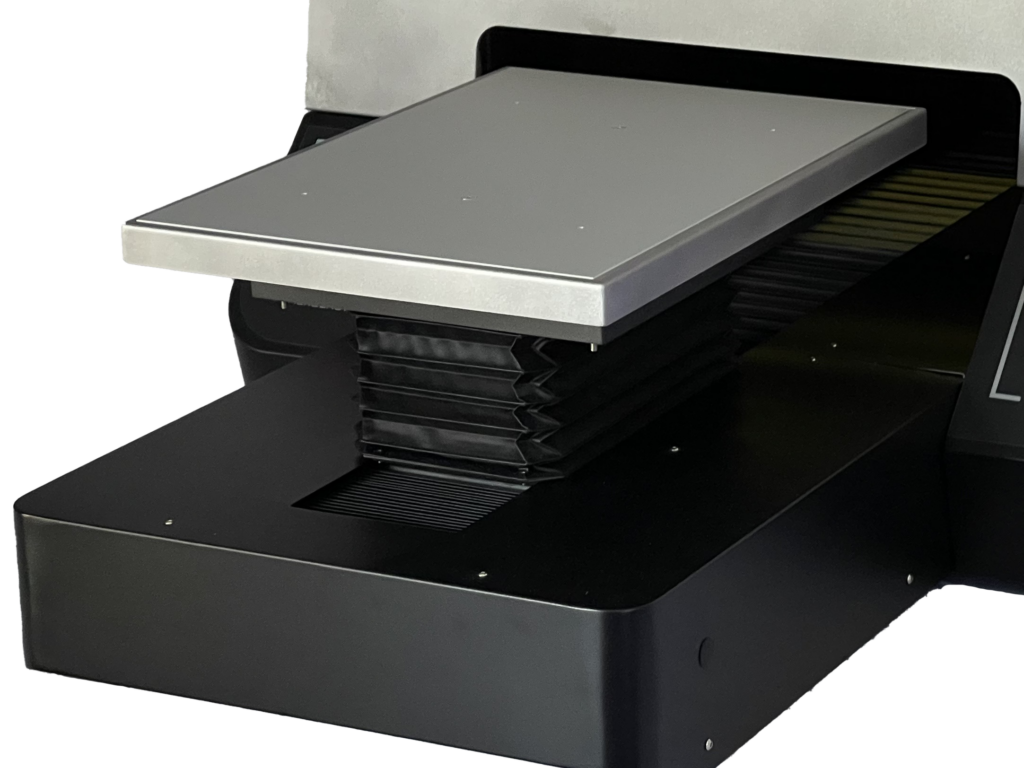 Consistent results with perfect table height
When printing items with various thickness, it is important that your table is as close to the print head as possible. Other printers require you to make this adjustment manually, but the Model X utilizes new technology to ensure your table is always at the appropriate height. This reduces the amount of maintenance and virtually eliminates mis-prints
Request a FREE Sample T-Shirt
Send us a request for more information today and we will send you product information and a FREE SAMPLE T-SHIRT printed on new DTG-C Model X DTG printer
Requirements & Specifications
Printable Substrates - 100% cotton and high-cotton blends; 100% light poly, up to 50/50 dark poly, wood and canvas. Hats, shoes and other extended media options coming soon
Operating Environment - 59F/15C to 90F/32C, Humidity 45-80% RH, non-condensing humidifier recommended
Electrical Requirements - 100/120VAC 50-60Hz, 0.65A max, 70 watts
Curing Temperatures and Times - Heat Press (conveyor times vary) Light shirt (CMYK only): 356F/180C, 40 seconds; Dark shirt - 330F/165C, 90 seconds
Ink - Genuine DTG-C-approved direct to garment water-based pigmented CMYK and white inks
Pretreatment - DTG-C-approved pretreatment formulas. Use included HVLP Wagner power sprayer or automatic sprayer in a separate room from your printer.
Required Operating System - Windows 7/8/10, 32-bit or 64-bit
Printable Area - Up to 16 x 19.6 inches
Print Head Technology - Ricoh piezo-electric drop-on-demand inkjet
Ink Chambers/Nozzles per Chamber - 4 Ricoh print heads 8 channels/192 nozzles per channel
Typical Print Speeds - (10" x 8" graphic, light garment)
   - Speed: 28 seconds
   - Fine: 42 seconds
Resolution Settings -
   - Speed: 600x600 dpi/4 pass
   - Fine: 600x600 dpi/8 pass
   - Superfine: 1200x1200 dpi/16 pass
Ink Delivery System - Advanced closed-loop delivery system; Auto ink circulation system for white channels
Table Height Adjustment - Precision manual table height adjustment up to 1.2"/3.0 cm
Maintenance Features - Precise ink monitoring, auto ink maintenance system, automated print head cleaning, power purge system to help fill and remove ink from system
Connectivity - Supports USB drive and Ethernet
Dimensions - 18.9"H x 52.2"L x 33.9"W
Weight - 242.5 lbs (110 kg)
Standard Table - Medium 12.6" x 18" / 32 x 45.7 cm

   - Large 16" x 19.6" / 40.6 x 49.8 cm
   - Small 10.5" x 13" / 26.6 x 33 cm
* 0% financing with approved credit. Terms and conditions apply. Finance fee will be assessed at time of purchase.  Please speak to your representative for more details.