NEW MODEL Available!
Introducing the Epson F2270 Hybrid DTG + DTF Printer
Epson has updated the best selling Epson F2100 printer with the all new F2270 Hybrid DTG + DTF printer.  Effortless switching between DTG and DTF, auto fabric thickness detection and so much more!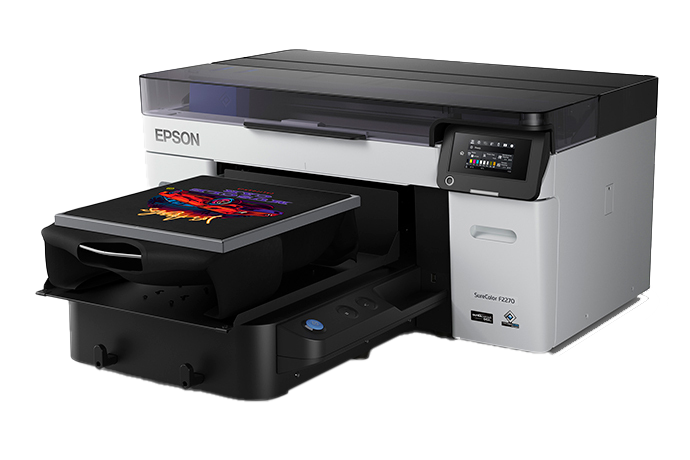 High-performance, reliable direct-to-garment printing
Designed exclusively for direct-to-garment printing, the Epson F2100 offers an entirely purpose-built system for high-quality prints at production speeds. Developed using the latest advancements in performance imaging, including our Epson® PrecisionCore® TFP® printhead and Epson UltraChrome® DG garment ink technology, the Epson DTG Printer achieves up to twice the speeds of our previous generation of DTG printers.1 Additional improvements — like a quick-load platen and robust Epson Garment Creator Software — take productivity even further, while the all-new integrated self-cleaning system means less downtime.
Epson F2100 DTG Printer Features
Exceptional Earning Potential & Fast Profits
See how you can earn more than $16,875 per month! The Epson F2100 DTG printer gives you the ability to earn high profit margins on custom garments.
Profit Per Month Selling 100 Shirts
Profit Per Month Selling 1,250 Shirts
Request a FREE Custom ROI Estimate
Let one of our DTG printer experts review your business opportunity and develop a custom package quote and estimated ROI based on your specific details.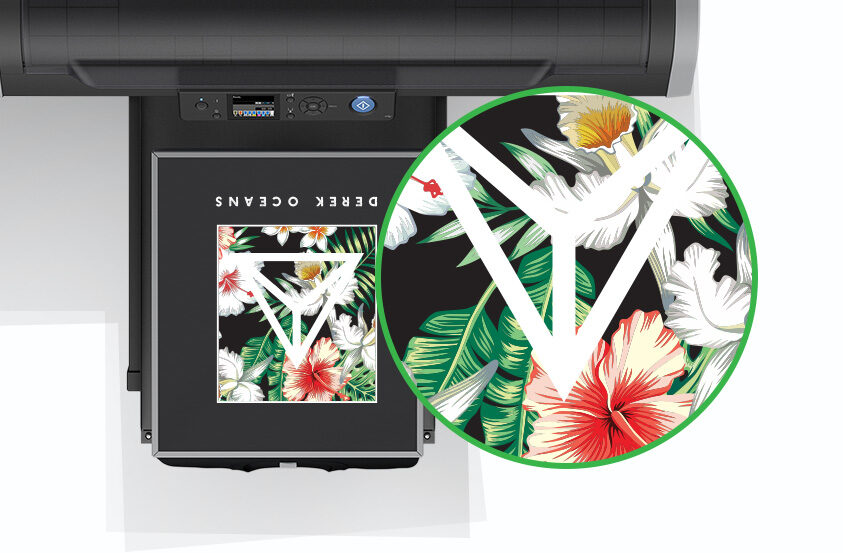 Epson PrecisionCore® Printhead Technology
Considered a benchmark for print quality, garments printed using our latest printhead technology are simply stunning. And, with print resolutions up to 1440 dpi, text and line art is extremely sharp and clear.
Simultaneous Highlight White
This new technology prints both high-quality highlight white and color image information simultaneously – dramatically reducing overall print times.
Reduce the time it takes to load garments by using the quick-load grip pad instead of traditional platen hoops.
Request a FREE Sample DTG Printed T-Shirt
Send us a request for more information today and we will send you product information and a FREE SAMPLE T-SHIRT printed on new Epson SureColor F2100 DTG printer
Requirements
Printable Substrates – 100% cotton and high-cotton blends; 100% light poly, up to 50/50 dark poly, wood and canvas. Hats, shoes and other extended media options coming soon
Operating Environment – 50 ˚ to 95 ˚F (10 ˚ to 35 ˚C), Operating: 20 – 80% (no condensation)
Electrical Requirements – AC 100-120 V, 50-60 Hz, Operating: Approx. 52 W or less, Standby Heaters On: 20 W Sleep Mode: 10 W, Power Off: 0.5 W
Heat Press Times: Use more time for heavy coverage on large areas
White Only: 45 sec/6 PSI
Colour Only: 45 sec/6 PSI
White & Colour: 75 sec/6 PSI
Heat Press Temperature: Heat Press Temp: 338°F/170°C 
Heat Conveyer Times: White & Color: 4.5 to 5.0 min White Only: 3.5 to 4.5 min 
Heat Conveyer Temperature: Heat Conveyer Temp: 320°F/160°C 
Ink – Genuine Ricoh-approved direct to garment water-based pigmented CMYK and white inks
Required Operating System – Windows 10 and 8.1, Windows Vista®
macOS 10.13 – Mac® OS X® 10.
Specifications
Thickness:
Garments up to 0.98" Thick
Media Type:
100% Cotton or cellulose fiber garment recommended
Maximum Print Area:
Maximum Printing Area 16" x 20" (Optional Large Platen)
Supported File Formats:
JPG and BMP
Tiff and PNG recommended for support of transparency
Printing Technology:
PrecisionCore TFP 10-channel, drop-on- demand, inkjet printhead with ink-repelling coating technology
Maximum Print Resolution:
Up to 1440×1440 dpi for White Ink
Up to 1440×720 dpi for Color Ink
Nozzle Configuration:
360 nozzles x 10; 6 ink cartridge bays; 1 cleaning cartridge bay