Are you considering investing in a custom T-Shirt printing machine but can't decide which method to go with? Don't worry, we've created a comprehensive comparison of the top 3 types of t-shirt printing methods to help you make your decision. Each type of process has its strengths and weaknesses, which should help narrow down your decision depending on your business needs.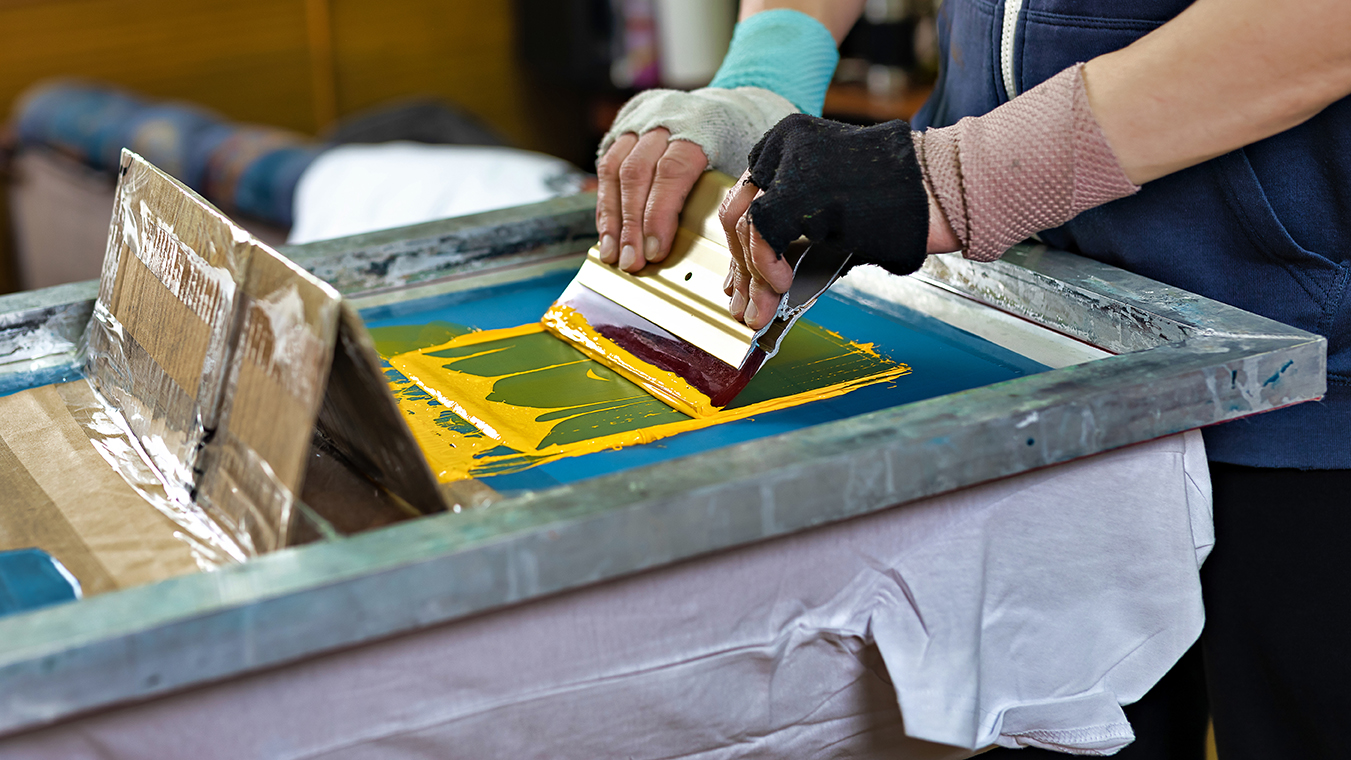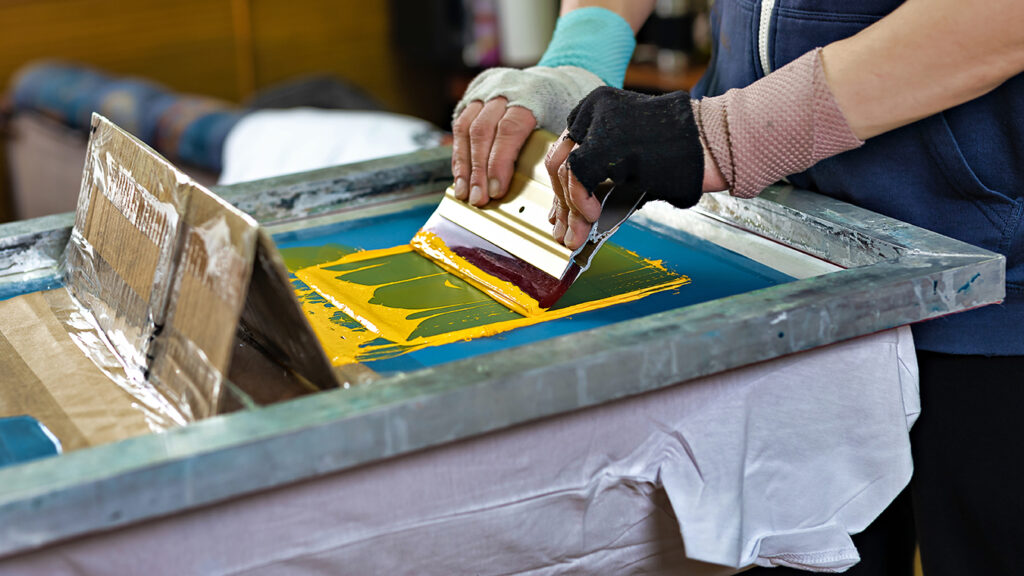 Screen printing or silkscreen printing methods have been around for decades, even centuries. A majority of shirts you see on the market use this technique. Silkscreen uses thick plastisol inks which produce vibrant, longer-lasting prints onto both natural and synthetic fibers. However, since a single screen is needed for each color used, you are limited to the number of colors you can have in your design. Also, set up fees are expensive so the minimums for silkscreen are very high. If your business involves large orders with 1 -3 colors in your design, investing in a silkscreen printing machine could be a good choice.
Direct-to-Garment (DTG) Printing Process
Direct to Garment printing (DTG) has been around since 2005. DTG uses water-based inks that are long-lasting and have a great soft hand on the final print. DTG is a "what you see is what you get" type of printing process. You can create graphics with unlimited colors and the printer digitally prints it directly onto your garment. Since everything is done digitally, DTG has the capability to offer no minimums. However, due to the type of inks being used, DTG works best with 100% cotton garments and wouldn't be the best choice for 100% synthetic fabrics. Check out our DTGC X2 DTG Printer and Epson F2100 for high-quality DTG printing.
Direct-to-Film (DTF) Printing Process
Direct to Film (DTF) is the newest type of garment printing process. DTF printers print onto a transfer sheet and then are coated with a polymer melting powder to help the ink adhere to a garment. You still get the full color range like DTG and you are able to use it on both cotton and synthetic fibers.
However, DTF prints can be limited due to the nature of the feel of the print on a shirt (slightly stiff feeling) so you would want to stay away from images that cover large areas of ink (like a large rectangle). Also, while DTF prints are durable, they may not last as long as DTG or silk screening.
One standout option in the DTF printing market is the DTGC X2 DTG Printer. This innovative machine is essentially two printers in one, capable of both DTG and DTF printing. With a simple push of a button in the provided software, the X2 can switch between DTG and DTF modes, offering unparalleled flexibility for your printing needs.

What sets the X2 apart is that it's built on proven and time-tested printing technology. This makes it not only a superior DTG printer but also a formidable competitor in the DTF market. In fact, its performance as a DTF printer often surpasses many dedicated DTF printers on the market.

To help you better understand the differences between Screen Printing, Direct to Garment (DTG), and Direct to Film (DTF) printing methods, we've created a comparison table.
|  | Screen Printing | Direct to Garment (DTG) Printing Process | Direct to Film (DTF) |
| --- | --- | --- | --- |
| Durability of Prints | High (Long-lasting prints) | High (Long-lasting prints) | Moderate (Depends on garment care) |
| Maturity of Technology | Mature (100's of years) | Mature (Since 2005) | Emerging (Newest technology) |
| Type of Materials | Works well on both natural and synthetic fibers | Best with 50% or higher mix of cotton fibers | Works well on both natural and synthetic fibers |
| Labor Cost Per Shirt | High for small orders Low for larger orders | Medium | High (Additional steps to prep film and transfer to garment) |
| Set Up Cost | High (Color separation, screen prep for each color and clean up) | Low (Simple file prep and simply send to printer) | Low (Simple file prep and simply send to printer) |
| Materials Cost per Shirt | Decreases with larger volumes | Low ink cost (~$0.25-$1.50) | Higher materials (Ink, paper & powder) |
| Color Range | Limited color range (One screen needed for each color) | Unlimited color range (Digital printing) | Unlimited color range (Digital printing) |
| Best For | Large orders with 1-3 colors in the design | Small to large orders with complex, multicolor designs on cotton and cotton blends | Smaller jobs on both cotton and synthetic fibers |
| Printers | Riley Hopkins 250 Press Vastex V1000 Ryonet Silver Press | DTG-C X2 Epson F2100 RICOH Ri 1000 Brother GTX | DTG-C X2 Uninet 100 or 1000 Mutoh VJ-628D |
| Other Equipment Needed | Exposure unit | Pretreat sprayer/Wagner | Powder shaker station (simple tray or shaker machine) |
| | Pressure washer or washout station | Heat press or tunnel dryer | Heat press |
| | Ink mesh | | Optional curing oven for film |
| | Screen frames | | |
Conclusion
Choosing the right printing method for your business is a crucial decision that can significantly impact your product quality, production efficiency, and overall profitability. Whether it's the vibrant, long-lasting prints of screen printing, the digital versatility of Direct-to-Garment (DTG) printing, or the adaptability of Direct-to-Film (DTF) printing to various fabric types, each method has its unique strengths.
The DTGC X2 DTG Printer stands out as a versatile choice, offering the benefits of both DTG and DTF printing in one machine. This flexibility allows businesses to adapt to varying customer needs and market trends, making it a valuable asset in the competitive world of custom t-shirt printing.
Ultimately, the best printing method for your business depends on your specific needs, the nature of your designs, the materials you're printing on, and your business goals. It's about finding the balance between quality, cost, and versatility that aligns with your brand and vision.
At DTG Connection, we're committed to helping businesses make informed decisions about their printing needs. We offer a range of printers that cater to different printing methods, and our team is always ready to provide a free quote and consultation to help you choose the best process for your business.
In the ever-evolving world of t-shirt printing, we're here to ensure your business stays ahead of the curve.