Guide to Selecting the Best T-Shirts for DTG
Here at DTG connection we are constantly asked not only where to get shirts, but which are the best t-shirt DTG.  The "best t-shirt for DTG" question is one of those topics where you can ask 10 people and you might just get 10 different answers.  Some might be interested in the lowest cost, while others are looking for a garment that produces the absolute highest quality prints.  Still others are looking for that soft feel in their garments.  As a result, ranking a list of garments from good to best for direct-to-garment printing would not be as useful as helping you understand the factors that affect the performance of a DTG t-shirt.  You will then be equipped with the knowledge of how select the right t-shirt to satisfy your needs and ultimately what your customer is looking for.  In future posts, we'll help identify some of the more popular t-shirt brands for DTG along with the pros and cons for each.</br>
Selecting the ideal DTG t-shirt for your business really comes down to the 3 factors below.
When you are printing a photograph on paper, we all know that you'll get a much better result if you use glossy photo paper.  The same concept is true with garment printing except in the case of DTG, we use a ring spun cotton to ensure the highest quality image and durability. 
Ring Spun cotton is created differently than regular cotton fabrics.  Regular (or open ended) cotton uses fibers that are twisted together to make yarn.  This yarn is then woven together to make the shirt.  In contrast, ring spun cotton sends the yarn thru a spinning process with the intent to soften and straighten the fibers allowing for a tighter weave.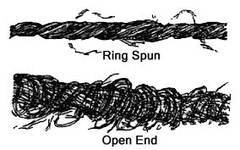 As a result, Ring spun cotton t-shirts will last longer and feel softer to the touch.  They will also give you the best results when printing with DTG because it has a more flat/smooth finish.
Combed Cotton:
When printing DTG, you want to be working with ring spun combed garments.  Combing the garment helps to align the threads and reduce the amount of fibers sticking up which affects the quality of the print.  In addition, some manufacturers will take an additional step to run the fabric through an enzyme wash that helps to further remove fly away fibers that will impact the print quality on a DTG print.
100% Cotton vs. Blends
The ink that is used in DTG printing is specially formulated to not only work within the internal components of the printer but also to adhere to natural fibers.  Simply put, your best results will come from 100% cotton t-shirts. Many suppliers/manufactures also have amazing 50/50 poly cotton blended shirts that will produce great results with DTG.   However, not all manufacturers are the same because they use different types of poly, different blends and coatings as well as different processes.  For this reason, it is difficult to give a precise answer on which blend percentages are acceptable for DTG.  In general, it is possible to print with as much as 50% polyester when printing with white ink.
We highly recommend you test print and wash any new garment so you know how it will perform for your customer after a few washes.  Some additives such as silicone softeners used by manufacturers to make a garment feel extra soft, can have a negative effect on the DTG print and/or washability.
Polyester Printing:
Update: With the addition of DTF capabilities on the X2 printer, it is now possible to use the DTF process on the X2 DTG printer to print garments over 50% polyester.   More advancements continue to come out for DTG polyester, however, your best bet is DTF once you pass 50%.
DTG printing on 100% polyester shirts still comes with some challenges.  If you are printing on light colored garments that do not need white ink, you will still have great results that will hold up in the wash.  If you are printing on dark shirts with over 50% polyester however, you will start to have some challenges.  You will find that every few months someone will come out and say they've "solved the dark poly problem!"  However, this "solution" often involves a complicated and time-consuming process that often is not practical for most businesses.  Also, quite often these so-called solutions did not actually perform a proper wash test.  Prints look beautiful off the printer; however, they fall apart in the wash.  Results will also vary depending on the garment itself.  A solution that works on one garment might have different results on a different brand or model of shirt.
I am 100% confident the industry will ultimately solve this problem but it's just not there yet.  With that said, explore the different blends, pretreats and techniques out there and see what works for you.  As we find new techniques and tricks, we'll put out blog posts to help you achieve the best results with your polyester prints.
Final Thoughts:
Printing is subjective to you and your customer.  It is always important to keep perspective of what the end customer actually wants.  Your goal should be to produce quality garments that customers want to buy.  Keep this in mind when selecting the ideal garment for your customers.  Ask yourself these questions:
Does the garment meet my customer's needs on look and feel?
Am I able to print an acceptable print that will hold up in the wash?
Am I able to purchase the blanks, pay for labor and sell at an acceptable margin?
Will my customer buy the garment and be happy with their purchase after the wash?
If you are able to answer yes to all of these questions, then it's a success! Don't fall into the trap of nit picking your output to such an extent that no customer will ever notice the slight variations between the brands of t-shirts. If it works for you and your customer, then who cares what the so-called experts say online.
Finally, it's important to test garments with blends of polyester that are new to you.  Make sure that they will meet your needs before you buy a full inventory and waste time printing a job for a customer.