Tips & Tricks for Great DTG Prints from Expert Sukit Amorn
Many of you may have already virtually met Sukit Amorn from SK Color in Thailand on DTG Facebook groups where he has been a major contributor helping DTG owners get the most vibrant results in their prints.  After seeing his consistent success helping customers achieve the results they were looking for, the DTG Connection team reached out to Sukit to share ideas and help spread his great advice and amazing prints further in the North America market.  One of his "secret" weapons is using the pretreat fluid that his company developed.  So in January we worked out a deal to import is SK Pretreat so the US market could have access to this great product.
But Sukit's expert advice is not just about using a great pretreat. He consistently contributes great advice on RIP settings and printing techniques that help DTG print shops put out some amazing products.  So we asked Sukit's permission to republish some his highlights here so it doesn't get lost in the archives of Facebook posts.
Actual Print Examples Using These Techniques:
Improve the Vibrancy of Your Prints & Maintain the Feel of the Garment!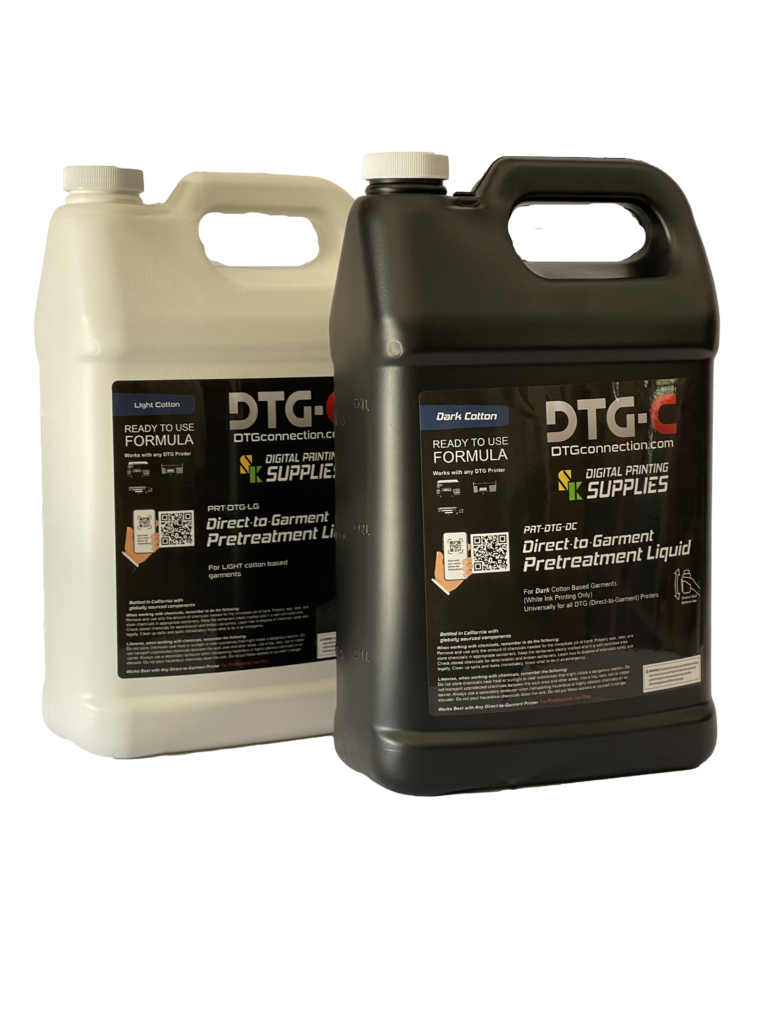 Try the SK Pretreatment fluid that everyone is raving about!
"Works awesome! You got our business!" – Adrian in Houston, TX
"We absolutely love it. It made the colors vibrant, and it feels soft to the touch and it makes you feel confident like you cannot over or under pretreat."  – Kanji Entertainment – Lenexa, KS
Basic RIP Settings for Quick and Consistent Results
Here is a great starting point for RIP settings using AnaRIP for the RICOH Ri 1000.
Color Adjustment Tab – Don't touch anything in this section except make sure you select "Perceptual Rendering"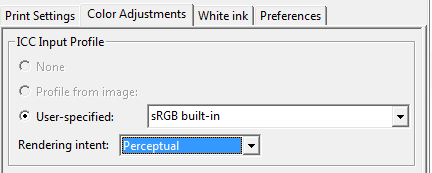 White Ink Tab –
Enable Content Base
Enable Highlight

Highlight 35-40%
Pure White 90-100%
Choke 2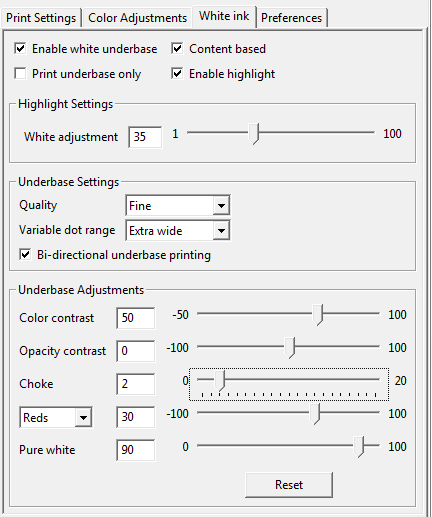 Printing Tip for White Underbase
The bigger the design! the shorter the white ink dry time you need to allow in order to avoid bleeding of white ink.  This may be counter intuitive, but with a smaller image, there is less time from the finish of the white ink pass and the start of the CMYK pass.  Therefore, you will need a longer delay for smaller designs.
For an 11 x 17 inch sized design using the above settings, we recommend a 25-35 seconds white ink dry time to allow the white ink pass to properly set before applying the CMYK layer.
Fo an 8 x 10 inch sized design, you should target about 65-85 seconds dry time.
Pretreating Tips & Tricks
1. Start With Quality Pretreatment Fluid
The first thing you need to do is make sure you are using a quality pretreatment fluid.  Most of these recommendations apply to all brands of pretreat.  We obviously recommend the fluid made by Sukit's company SK Color now available in the US exclusively through DTG Connection – SK Pretreat for Dark Garments.  Benefits of SK Pretreat are more vibrant colors, no staining and a soft feel without washing.
2. Curing/Drying The Pretreated Shirt With a Heat Press
Heatpress your pretreated shirt at 356F 45-55 seconds(medium to light pressure)
After it is done make sure your teflon or kraft paper just flies off or disconnects from the shirt when you open the heat press.
If your teflon or kraft paper is still sticking to the shirt, peel it off and heat press again for 5-10 seconds then make sure that your paper is not sticking to the shirt any more. This will make sure that shirt fibers are already down.
When using teflon, make sure you always keep the teflon sheet clean by wiping it with a wet piece of cloth. We recommend a wipe down after 15-25 shirts.
Always remember or mark which side of teflon makes contact with the shirt and always use the same side in your process
When using kraft paper or parchment paper, be sure to replace the paper as soon as it begins to wrinkle. Otherwise you may cause a permanent wrinkle stain in the garment.
Important!!!!!
DO NOT TOUCH YOUR PRETREATED AREA ON YOUR ALREADY PRETREATED SHIRT. If you touch the garment after it has been pretreated and pressed, you may cause the fibers to stand back up which is not what you want.  This will cause less vibrant prints and potentially pin holing in the whites.
If you stack your pretreated and pressed shirts together, make sure you give each shirt a quick 5-10 second press before you print. This will lay the fibers down again for the best possible printing surface.